The Middle Eastern gem in Södermalm
About Elie's
Since 1997, for over 25 years, Elie's has been located in the same place at Katarina Bangata 71, a stone's throw from Ringvägen. At our intimate and cozy neighborhood restaurant, we have served Södermalm residents, Stockholmers, and temporary visitors good food prepared with love and ingredients of the highest quality. Genuine food delight, in short.
The menu has varied over the years, but today we are a Lebanese restaurant in Södermalm where you can enjoy authentic Lebanese food with Swedish influences. Plus high level of service, cozy interior and a friendly atmosphere. At Elie's, you simply feel at home.
Genuine family restaurant where tradition meets innovation
Elie's is a family business run by Elie Lteif and his wife, Sussi. Besides serving and chatting with our guests, both of us are also in the kitchen. With our talented staff, we always do our best to give you a perfect dining experience with first-class service every time you visit us.
We are firmly rooted in the thousand-year-old Lebanese food culture but like to mix traditional dishes with exciting innovations. To keep the menu varied and vibrant, we frequently travel to Lebanon for new inspiration. The goal is that Elie's should serve the best Lebanese food in Stockholm.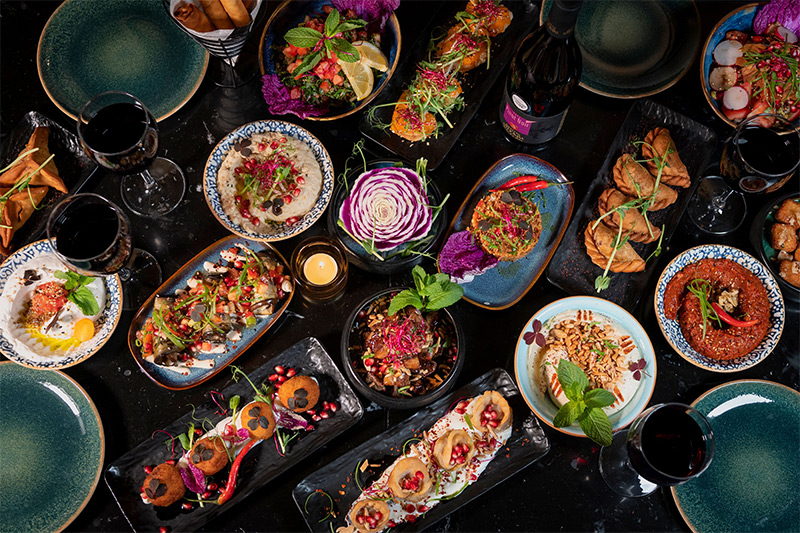 Lebanese meze with a twist
Spicy flavors meet fresh vegetables. Crispy fried foods are combined with smooth sauces and mixtures. The flavorful and colorful Lebanese cuisine has a wide variety we want to share with you.
The menu is dominated by meze, the classic small dishes that have made Lebanese cuisine world famous. We offer a large and varied selection of both hot and cold meze, and there is something for all tastes – meat, fish, vegetarian and vegan dishes. Hummus, tabouli, falafel, baba ghanouge, fattoush and rakakat are just a few examples. And to give the food our own unique twist, we have combined Lebanese delights with Swedish flavors.
If you want to try a little bit of everything, we recommend our popular tasting menus, and if you prefer something other than small dishes, we also serve several main courses.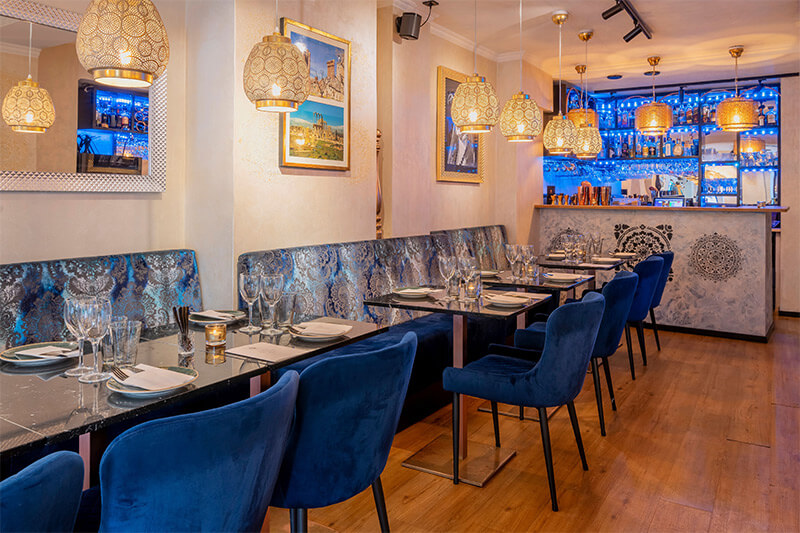 Lebanese restaurant for all occasions
Whether you want to have a cozy dinner with your partner on a Tuesday, gather a group of friends or family for a meze party on a Saturday night, or have a nice after-work with your work colleagues, our Lebanese restaurant in Södermalm offers everything you need for an enjoyable evening of oriental cuisine.
Catering and party venue
For life's big (and small) special occasions – such as weddings, baptisms, or birthday celebrations – we can provide catering as a buffet for up to 200 people. And if you need a venue, we can organize parties for up to 30 people in the restaurant.
A warm welcome to Elie's!
Katarina Bangata 71A
116 42 Stockholm